Below is a chart from a survey of Facilities Managers (the people responsible for hiring the cleaning services used by their companies) regarding cleaning services. The chart depicts the results of the question "What would validate paying a higher price for cleaning?"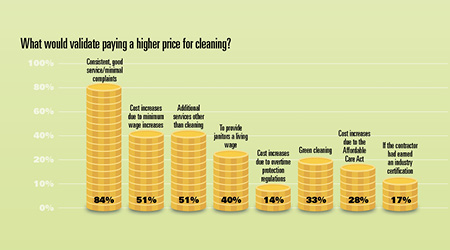 As you can see the highest number of respondents (84%) claimed that the delivery of "good, consistent service with a minimal complaints" would warrant them paying a higher price for cleaning. This means 8 out of 10 decision makers stated that they are willing to pay a premium price for their cleaning services. This is a LIE.
My experience is that less than 1 out of 10 businesses really understand that paying a premium price for quality cleaning services actually saves them money AND are willing to pay that premium. All the others end up using price level as a primary criteria when making decisions about which cleaning service company to select.
Why do people say this when they know that when it comes time to make the decision, other criteria will carry the day? I don't know.